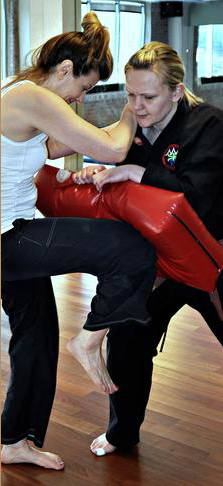 We offer classes in women's safety and self-defense. While the training involves practical physical skills, psychological, emotional and communication elements are emphasized. The world answers to our concepts of it — and of ourselves. We begin by examining ourselves in relation to the world we inhabit. Then, we shift our mind-set toward a more positive and powerful self-concept. Finally, physical techniques are employed to increase a genuine sense power and confidence.
Sensei Philyaw is uniquely qualified in this area because of his extensive background not only in the Martial Arts and Personal safety but in Psychology, Communications theory and Gender Studies. His Assault Control Tactics program has trained hundreds of women and girls. Mr. Philyaw has also participated in national and international conferences on sexual assault prevention, and he has lectured for corporations and high schools throughout northern Illinois.
He firmly believes that no one should be or feel victimized, that all deserve to live without fear — and that that there exist techniques and knowledge to help ensure that condition. Programs can range from 2-hour introductory sessions to 15-hour intensive programs (over 5 3-hour classes).  Please send us a note on our Contact Us page if you are interested in this program.